SmithPro takes a collaborative approach to the construction management process by integrating the design development phase into the pre-construction process. We become a key member of the project team from the early stages, acting as the client's construction consultant. The value to the client and the team is a controlled pre-construction process, where we work in a strategic capacity alongside the design team to anticipate and resolve problems. We provide preliminary budget estimates, value engineering as required, sub-trade planning, establish product and service lead times, attend pre-tender drawing reviews, and produce, monitor and implement schedules. By managing the risks inherent in every project, the client is assured that by the time the design documents are ready for tender, the budget estimates have been optimally qualified, thereby minimizing surprises cost. As well, by entering the tendering process with a pre-selected, highly qualified list of sub-trades, clients are also assured that their project has a high probability of meeting their quality and delivery timeline expectations.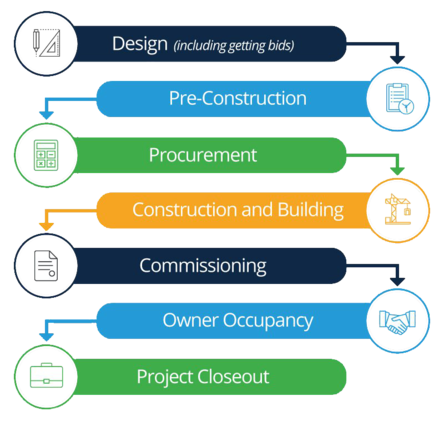 The Construction Management approach, similar to an Integrated Project Delivery (IPD) approach, is a highly collaborative, value based, pre-construction process. Construction management has become a preferred delivery method because of its ability to mitigate the client's project risks in regards quality, budget and schedule.
Our construction management professionals drive the delivery of our clients projects in ways that other companies often fall short.
Interested In Our Services?
Request a quote or contact us directly.